COVID 19: In-Kind Donations Policy
IMPORTANT: PLEASE READ

We are currently only accepting the following food donation items to help us prepare for our Thanksgiving Distribution:
Sweet Potatoes, 15 oz. can

Mac & Cheese, 7 oz. box

Mashed Potatoes, 14 oz. box

Stuffing, 6 oz. box

Cornbread Mix, 8 oz. box
We are only accepting children's clothing in our Joseph's Coat bin at this time. Please help us by sorting all donated children's clothes by gender and size.
Our building is still closed to the general public through December 2020. If you have food items that you wish to donate, please send us an email to schedule a drop off when our staff is on site.


In Kind Donations

THANK YOU for your in kind donations. Your donated items are distributed to our neighbors to meet their needs. Scroll down for a full list of our most-needed items by ministry area. We update the lists periodically.

Please note that The Storehouse DOES NOT accept these items:
Home goods, furniture, etc.
Toys, books, games
Electronics
Medication
Soiled, damaged items or items in need of repair
Donation Receipts
Signed copies of our donation receipt for in kind items can be found in the realtor boxes located at the drop off areas below. We can also send you a digital copy of the receipt. Email us at info@thestorehousecc.org.
Donation Drop Off
In kind donation items such as non-perishable food, gently used clothing (like new), and full size hygiene items can be dropped off at the designated times and locations on our campus as shown below.
DONATION DROP OFF ADDRESS
1401 Mira Vista Blvd.
Plano, Texas 75093
DROP OFF HOURS
Mon - Thu: 8:30 a.m. - 5:00 p.m.
Fri & Sat: 9:00 a.m. - 12:00 p.m.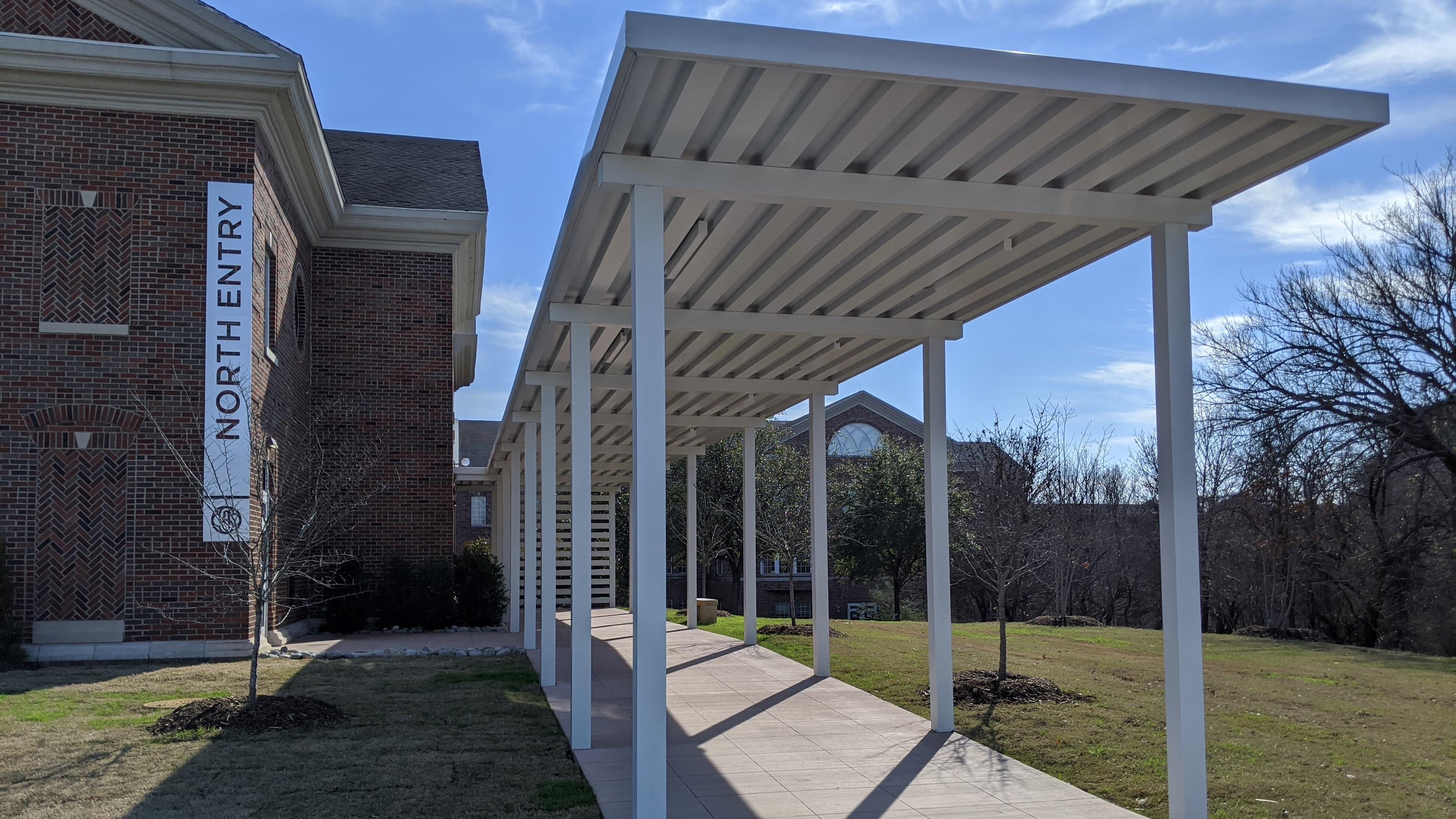 DONATION DROP OFF ENTRANCE
Our drop off entrance is located in the North Parking Lot when you enter along Mira Vista Boulevard.
DONATION DROP OFF BINS
In kind donations can be dropped off in the bins above by the north entrance. Please use the blue bin for food donations and red bin for clothing items (during inclement weather).
JOSEPH'S COAT DONATION SHED
You are also welcome to drop off clothing items in the outside bin. Please bring items inside and notify our team if you notice that the shed is full.
Seven Loaves Food Pantry
We accept all non-perishable food items unopened and undamaged containers. Food item donations must be within the sell-by date.

Have a question about food pantry donations? Send us an email.
MOST NEEDED ITEMS
White Rice - 16 oz. or less packages.
Peanut Butter - 16 oz. (no glass containers please)
Dried Beans - 16 oz. or less packages. (i.e. pinto, navy, lentil, black)
Joseph's Coat Closet
Joseph's Coat accepts clean, gently used (like new) clothing. No home goods, furniture, toys or electronics will be accepted. We do not have the capacity to distribute those items at this time. Please deposit your donations in the outside bin located in the North Parking Lot.
Project Hope Relational Ministry
Project Hope supports women and children in crisis. When needed, we are able to provide our neighbors with gas cards to cover the costs of traveling to our campus for their appointments. Please deliver gift card donations directly to our team members.
Project Hope also has volunteer opportunities for skilled volunteers to provide in kind services. Contact our Direct of Project Hope, Jackie Welchman, for more information on needed items and services.
MOST NEEDED ITEMS
QuikTrip Gas Cards ($25 value)
Walmart Gift Cards ($25 value)
NEEDED SKILLED VOLUNTEERS
Pro Bono Mental Health Counseling
Financial Coaching
Career Coaching
Automobile Repairs
PlusONE: Hygiene Items Ministry
Our 100% volunteer-led PlusONE Ministry provides full-sized hygiene items to Storehouse clients once a month. The purpose of PlusONE is to help our neighbors stay healthy and maintain their dignity.
PlusONE: The name of this ministry is intended to inspire individuals to think of others while taking care of themselves. We encourage our supporters to purchase ONE more item when shopping for their own hygiene items.
NEEDED ITEMS: (Full Size Only Please)
Children's Diapers, Sizes 4, 5, and 6
Adult Diapers, Size L, and XL
Deodorant
Shampoo
Soap/Body Wash
Toothpaste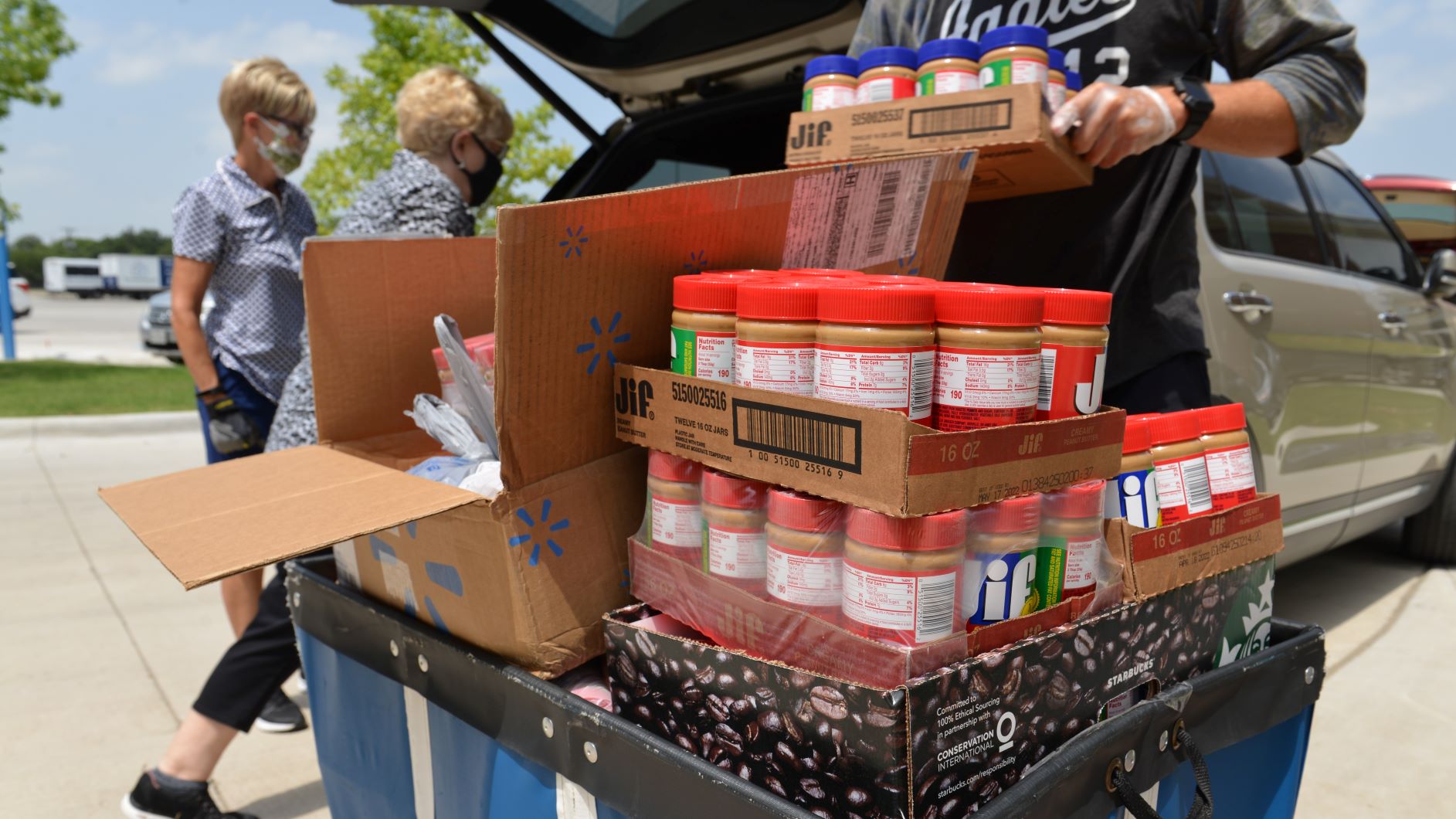 Organize a Food or
Clothing Drive Today!
Interested in organizing a donation drive for The Storehouse?
Find out more about how you can invite your friends, family, coworkers, and classmates to help our neighbors by giving! Contact us to find out what our most current and urgent needs are.
Email us or click below:

DONATION DRIVES