25, 054
- that's how many hours of service of volunteers clocked in 2019. Each week at The Storehouse, hundreds of volunteers live out our mission to feed, clothe, and care as neighbors in one community. Together, our volunteers serve thousands of families in Collin County each year.
Our volunteers make The Storehouse an extraordinary place to serve. We are all neighbors, and this is our home. Join us and make a difference.
With 1 in 6 households (16.1%) facing food insecurity and 1 in 5 children (21.6%) affected by hunger, the needs of the Collin County community are great. Every day, economic challenges prevent over 130,000 individuals from meeting their basic needs.
At The Storehouse, our mission is to feed, clothe, and care as neighbors in one community. We believe in rallying our neighbors here in Collin County and empowering them to make a difference in their own neighborhoods by serving others.
We all call Collin County our home and we can all play our part to transform the lives of those who need our help. The Storehouse will always be a place for neighbors, built and run by neighbors.
Storehouse 2020 T-Shirt Details
Team leader shirts come in Graphite Grey and General volunteer shirts are in True Navy.

Comfort colors 6.1 oz, 100% ringspun cotton t-shirts

Preshrunk, soft-washed, garment-dyed fabric

Back: Storehouse Mission statement and program logos
Front: Storehouse Logo and "Team Leader"/"Volunteer" inscription on front left
Right Sleeve: "For Neighbors, By Neighbors" inspirational text
"I Want a T-Shirt, How Do I Get One?"
We want all our team leaders and volunteers to receive a t-shirt when they volunteer so that our neighbors can easily identify who to go to for help during their visit.
Here's how you can get a your Storehouse 2020 Volunteer T-Shirt:
If you are a social media user, we ask that you "Like" us on Facebook or "Follow" us on Twitter and Instagram. The next time you check in at The Storehouse to volunteer, simply pull up the social media app of you choice on your cell phone and show our volunteer check in team that you are currently following The Storehouse (@thestorehousecc).
"But I Don't Use Social Media..."
Not one worry! You can still receive a shirt! If you are not a social media user, we ask that you subscribe to our email list. The next time you volunteer at The Storehouse, simply show the volunteer check-in team any email you have received from The Storehouse in the past 30 days and we will get you a shirt!

Get the latest news from The Storehouse, subscribe now:
Make a $10 Gift Today
There is no charge for you to receive the Volunteer T-Shirts. However, you can help us cover some of the costs for the shirts with a suggested donation of $10.

Summer 2020 Athletic Shirt
The coolest volunteers in town just got even cooler! With these moisture-wicking athletic volunteer shirts, you can now serve our neighbors outside in style and comfort.

The athletic shirt design captures the extraordinary team-spirit exhibited by our volunteers who work side-by-side as "one community" to feed, clothe, and care "as neighbors."

Ask a Storehouse team member for one of these shirts on your next volunteer shift. A suggested donation of $12 will cover the cost of a shirt.
Athletic Volunteer Shirt Details:
Superior moisture wicking for peak performance
Ultra-tight knit for better opacity and printability
Stain release and odor resistant for easy care
Fade and snag resistant for durability
44+ UPF for UV sun protection
Back: Jersey "Number" highlighting our "1 Community."
Front: "Team Storehouse, Est 2009" and Storehouse Mission
Available in Unisex and Women's* fit. Unisex's Sizes: S, M, L, XL, XXL, XXXL; Women's Sizes: S, M, L, XL (the women's fit runs a size small)
Volunteer Name Tags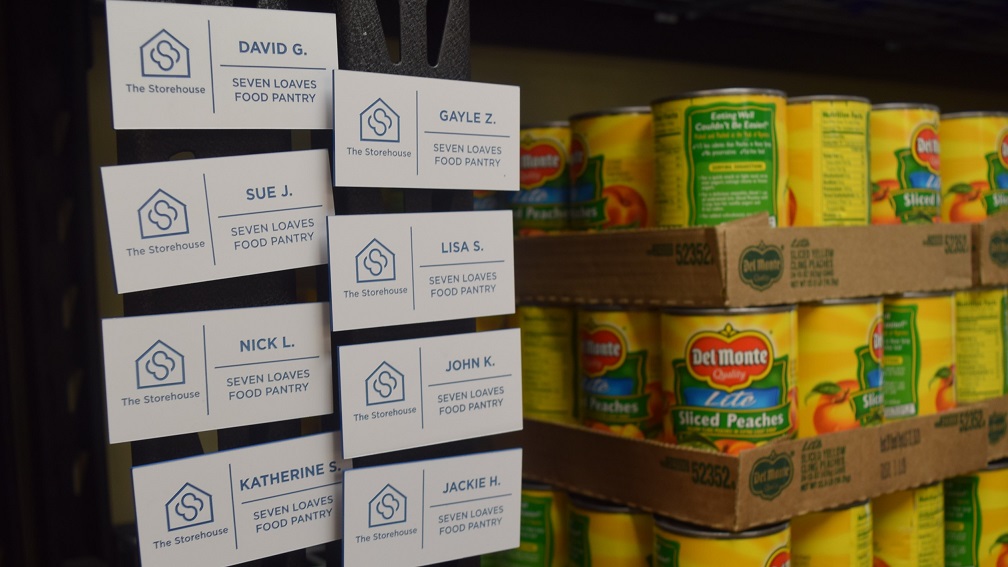 At The Storehouse, we believe in getting to know all our neighbors by name! That includes our volunteers!

Volunteers who have completed 40 hours of service at The Storehouse are eligible for a screen printed magnetic name tag!

If you have completed 40 hours of volunteer work at The Storehouse, let our volunteer check in team know and we will get your name tag ordered!

*Please allow 2-3 weeks for the name tag to be ready.