Shop & Give! Support our mission to serve our neighbors while providing for your own needs.

Participate in any these no cost fundraisers simply by registering and linking your individual account to The Storehouse with the following retailers' "giving back" initiatives.
*As you know, The Storehouse rebranded in 2017 from its previous name "Seven Loaves Community" (Common Unity, Inc.) Please continue to use Seven Loaves Community in lieu of The Storehouse of Collin County until further notified. Thank you!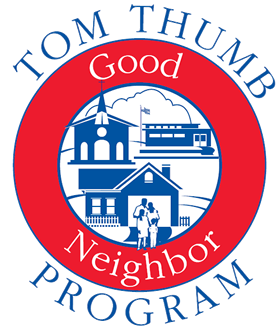 Tom Thumb Good Neighbor Program
Tom Thumb's Good Neighbor program contributes 1% of all rewards cards holders' purchases to The Storehouse.
Link our account number to your individual Loyalty account and your purchases will credit The Storehouse. Our organization account number for this program is #13316.
Kroger Community Rewards
If you shop with a Kroger Plus Card, you can identify us as your preferred organization using the number: PL412 when you sign up to be part of the Kroger Community Rewards program.
Register your Kroger Plus card today and support The Storehouse every time you shop! ("Seven Loaves Community")

SUPPORT COMMUNITY