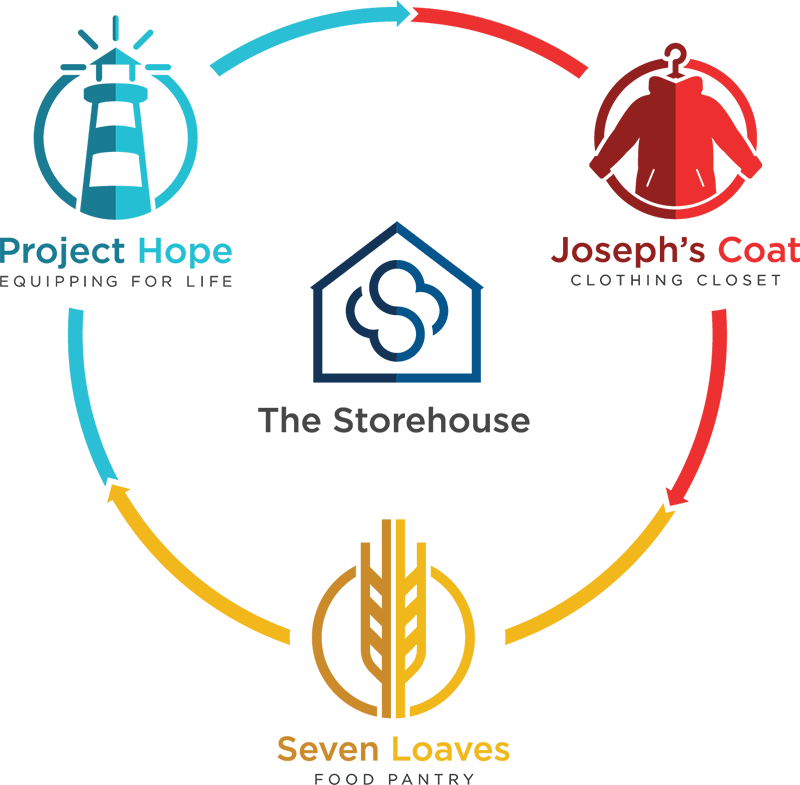 Since 2009, Seven Loaves Community has been an asset to Collin County and the surrounding communities. Thousands of families have experienced the transformational assistance that the Seven Loaves Food Pantry, Joseph's Coat and Project Hope have to offer. The largest reach we have in the community is by far through the Food Pantry, with, on average, 1,000 families a month receiving service. We have found that it is common for many to only see the Food Pantry and not the other services we offer. Through a lengthy process of surveying our impact, it was determined that Seven Loaves Community would be changed to The Storehouse of Collin County.
The Seven Loaves Food Pantry, Joseph's Coat and Project Hope will still be known by their respective names, but will fall under the umbrella of services offered at The Storehouse of Collin County.
How did we choose the name?
Our desire is for our clients to see our services as transformational assistance. However, we will continue to serve them for as long as they need help.
The name was taken from Malachi 3:10 "Bring the full tithe into the STOREHOUSE, that there may be food in my house. And thereby put me to the test, says the Lord of hosts, if I will not open the windows of heaven for you and pour down for you a blessing until there is no more need."
This particular verse spoke to all that we do as an organization, as The Storehouse of Collin County offers food, clothing and people to advocate for clients when they are in a season of life where they need it the most.
We hope that you will join us in this work and stand with us as we continue to serve our clients until there is "no more need."