We are excited to build a new Storehouse facility over the next year to serve our Collin County Community better!

Due to construction, we are making some changes to how we distribute food and clothing starting August 23. We will be working with volunteers and the families we serve to ensure things continue to run smoothly as we build for the future.

Stay up to date with our construction process by following this page.
Parking Map, Summer/Fall 2019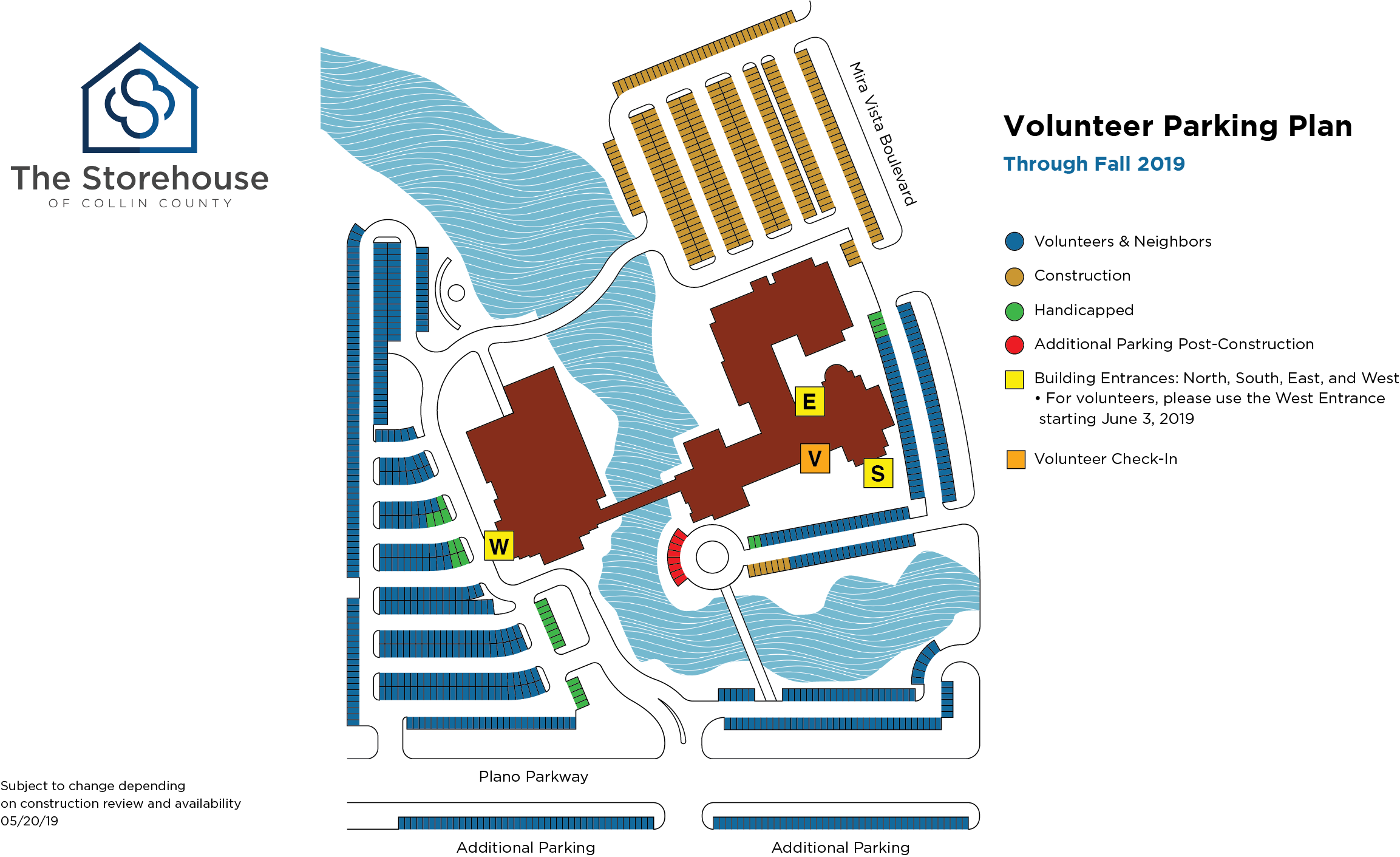 The north parking lot will be closed for construction through the summer and fall of 2019.

Volunteers are encouraged to park in the west parking lot in order to leave the spaces in the east parking lot open for our neighbors during distribution.
Volunteer Check-In: Summer 2019
From now through the end of Summer 2019, our volunteer check-in table has been temporarily relocated to The Cup area. After you park in the west parking lot, enter through the doors by the sanctuary and make your way across the bridge towards the east side of campus.

You will find the coffee and seating area pictured above. The smiling faces of our volunteer coordinators will be there to greet you and get your set up for your assingment for the day.
JUNE 2019
June 3, 2019
North Parking lot officially closed for the summer. Construction begins on flattening the parking lot and completing the new storefront and entrance for The Storehouse of Collin County.

June 6, 2019

First Seven Loaves Distribution with Room 137 (former freezer room) closed. Food Pantry operations will operate primarily out of the hallway on the north wing. Volunteer check-in has been moved to The Cup (seating area outside Smith Worship Center) for the rest of the summer.
MAY 2019
May 13, 2019
Fencing has been added to the north parking lot where our regular volunteers park. The construction crew has started working on flattening the north parking lot. Volunteers and team members are asked to park in the west parking lot.
APRIL 2019
April 1, 2019
The Storehouse received confirmation that construction on the northern parking lot and entrance has been pushed back to June 3, 2019. This means that the current food distribution flow for Seven Loaves Food Pantry on service days will not be changed until June.

April 25, 2019
Invitations sent out to Volunteer Managers for an upcoming meeting to discuss changes to distribution flow at Seven Loaves Food Pantry and Joseph's Coat. We anticipate that this will be the final phase of changes before the completion of construction.
MARCH 2019
March 11, 2019
The Storehouse and St. Andrew offices were closed on Monday, March 11 due to the power on campus being turned off for construction. We have yet to receive any further updates on when construction will begin taking place in Room 137 where we currently store our produce and frozen items.
FEBRUARY 2019
February 13, 2019
As construction moves inwards, the storage and sorting area in Room 137 will be impacted. We anticipate another round of major changes to our pantry workflow in March 2019. We are currently formulating a plan to ensure that our neighbors who rely on our food pantry will continue to receive excellent service. We also want to make sure that our volunteers have a safe space to work and serve. More information to follow.
DECEMBER 2018
December 22, 2018 - January 1, 2019
Our offices will be closed in observance of the Christmas and New Year's holidays. We will not be accepting donated items during this time on campus as we will not have staff or volunteers to sort and organize donated items.
NOVEMBER 2018
November 16, 2018
We successfully completed Thanksgiving Distribution 2018 providing 1,500 turkeys to our neighbors. Thanks to our volunteers who were flexible and adapted to a signficantly altered process from our previous distributions.
OCTOBER 2018
October 1, 2018
The iconic blue St. Andrew awning has been moved to our northwest entryway to indicate our temporary entrance during construction. The donation bins are now located to your left as soon as you enter the doorway.


SEPTEMBER 2018
September 24, 2018
Donation bins for Seven Loaves and Joseph's Coat food and clothing drop off moved to Room 137 along the hallway for the North entrance.
September 20, 2018
Storehouse office moved to Project Advocates' trailer behind St. Andrew Sanctuary.

September 1, 2018
Construction parking map published on St. Andrew website.
AUGUST 2018
August 27, 2018
Fences for construction go up. Construction begins.

August 26, 2018
Official Groundbreaking Ceremony for construction and St. Andrew Fair.

August 23, 2018
Adjusted schedule for Seven Loaves Food Pantry takes effect. Food pantry intake and personal shopping areas moved into Smith Worship Center.
| | |
| --- | --- |
| THURSDAYS | 4:00 p.m. - 6:00 p.m. |
| SATURDAYS | 9:00 a.m. - 11:00 a.m. |
August 22, 2018

Email with construction changes (with map) sent out to all Storehouse volunteers. PDF version of "Construction Volunteer Information" uploaded to webpage. Download by clicking here.
August 13-18, 2018
Storehouse volunteers and clients notified of upcoming construction and changes. Last week of regular services at Seven Loaves Food Pantry and Joseph's Coat Closet.

August 12, 2018
St. Andrew congregation voted in approval of Phase II of construction which will include a new facility for The Storehouse.
Construction: Frequently Asked Questions
Yes. All volunteers and neighbors are expected to arrive on campus via Mira Vista. The bridge will a one-way lane during service hours. Volunteers and neighbors who enter from the church-side entrance from Plano Parkway will be asked to turn around and come back in through the Mira Vista entrance.
Effective June 3, volunteers will begin parking in the west parking lot. The north parking lot is closed for construction for the rest of summer 2019. The east parking lot will be reserved for neighbors who are coming to The Storehouse for food and clothing.
Our neighbors will still fill out the registration forms as usual. Food Pantry and Clothing Closet intake will both be located inside Smith Worship Center.
All neighbors will be given the choice between going to Seven Loaves for food or Joseph's Coat for clothes first. For those going to Joseph's Coat first, they will bring their clothes to the car and then return for Seven Loaves. For those who go to Seven Loaves first, they will bring their personal shopping items and bread to their car, complete Joseph's Coat, and then go to the tent by the bridge (east of the north parking lot) for the rest of their fresh produce/meats.
We understand that not every neighbor who comes to the food pantry can afford their own transportation. For those who are relying on friends/family for a ride, they are welcome to wait in Smith Worship Center for their ride to arrive before picking up the rest of the food.
We will be adding more "general volunteer" slots for services days. Unless they are needed elsewhere, general volunteers can expect to be posted as additional runners at Smith Worship Center and at the tent by the bridge to help move food into the client's vehicles. Additional slots will be shown on the volunteer signup sheet printed via Volgistics and made available to check-in managers.
Depending on the severity of the weather, we will do our best to serve our neighbors unless the weather is deemed too hazardous. We will be setting up tents outside in case of light rain as well as providing ponchos for our runners.